How might we find creative solutions to the ocean plastics problem ?
hosted by our friends at Common Seas
Assembly at 9am
We'll kick off our day with a live assembly hosted by Lizzie Daly, TV wildlife presenter and Skye Neville, an ambassador for Common Seas.
Lizzie will introduce the day's challenge and then you'll meet Skye Neville who is going to share more about her phenomenal work as an ocean activist (wait till you hear about her petition !).
Download and print your colouring in activity for the day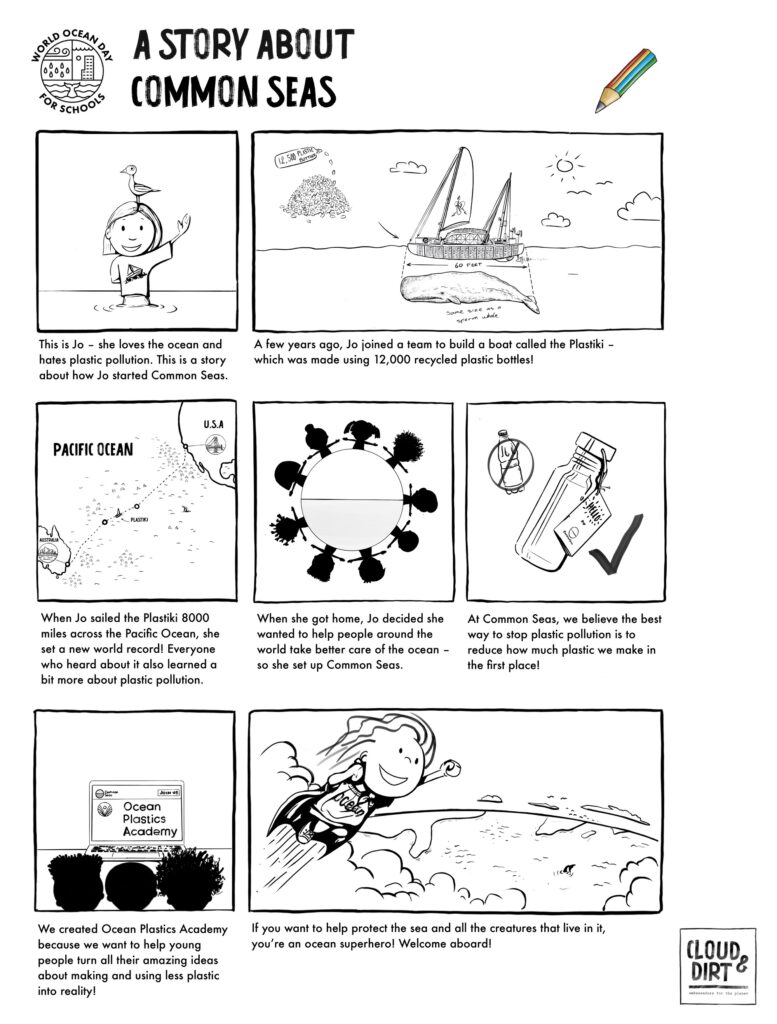 Ocean Lessons at 11am – Click to access all resources
Common Seas are collaborating with Kids Against Plastic to ask the question – 'What if young people helped schools lead a plastic waste revolution?'. Challenge yourself with the ocean and plastics quiz, then take a trip on a time machine to explore all the possibilities of a school free from plastic waste. You'll need to use your imagination and spark lots of ideas to create your own vision through artwork, stories and poetry.
Join 16 year old Sydney Steenland from the Sea Monkey Project in her workshop. Hear about the experiences she's had while living on a sailing boat and fighting plastic pollution! Learn more about how kids can make a difference.
We've got an amazing film presented by Outside TV that tells of the story of fourteen women of eight nationalities who set sail, in turbulent seas and high winds, from Plymouth, UK to São Miguel Azores. "Sirens of the Sea" chronicles the journey of eXXpedition's scientific research mission to test microplastics levels in remote regions of the world's oceans.
Learn more from our friends at Starboard – a watersports company with a different. Tas will be sharing more about their amazing Plastic Offset Program.
And join Marine Conservation Society to set up your own Plastic Challenge with your school, community or with friends and family, and help stop plastic pollution from reaching our ocean!
Schools of the Future
Ages 7-11+ // Duration 20 mins
Sirens of the Sea
Ages 11+ // Duration 20 mins
Starboard Plastic Offset Program
Ages 7-11+ // Duration 5 mins
Creating your Blue Space at 1pm – Click to access all resources
Have you downloaded your guide to creating a Blue Space yet ? That's a great place to start !
It's time to get creative ! Get ready to roll up your sleeves and start designing, building and playing in your Blue Space !
Common Seas have got three craft workshops for you to enjoy – building an ocean diorama, making plastic free prints and bioplastic decorations.
Solaire James is a creative videographer whose passion lies with the ocean, the beauty of it and the protection of it. As part of The Core Corby's Imagination Station, join her for a fun, hands on lesson that combines science and art as you make your own plastic bag jellyfish.
Marine biologists Russell Arnott and Elizabeth Mills will showcase some fun, hands-on experiments that introduce you to the problems around ocean plastic, before empowering you with simple solutions that can make a real difference in saving the planet. This is a workshop, so assemble the necessary materials and prepare to get hands-on.
Then join The Whale Company as they show you how to make an upcycled fish to hang in your Blue Space.
And last but not least, time to sit back and relax in your Blue Space with a story from Lauren Davies – Little Turtle Turns the Tide.
Build an ocean diorama
Ages – 5-11 // Duration 60 mins
Make your own potato stamp wrapping paper
Ages 5-11+ // Duration 60 mins
Make a jellyfish out of plastic bags
Ages 5-11 // Duration 30 mins
A sea of plastic
Ages 7-11 // Duration 60 mins
Little Turtle Turns the Tide
Ages 5-7 // Duration 20 mins
Create an upcycled fish
Ages 7-11 // Duration 20 mins